Services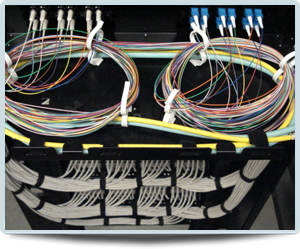 Our employees have extensive knowledge and experience in a broad range of installations from outside plant to local area networks. With our BICSI certified installers and continued training we provide the expertise needed to handle the toughest projects. The employees of Linxus Communications take great pride in their work and strive to make every aspect of the installation stand out in an industry where quality is not always a main concern. Our trucks are stocked with the latest tools and equipment, including the newest Category 6A and Fiber Optic cable analyzers. Linxus Communications offers a comprehensive project package consisting of rack, patch panel, and closet layouts, floor plans and test results.
Inside Plant

Any cable media distribution in one building only is considered Inside Plant. You may be involved in one property, but no job is too small for Linxus. Whether you need one outlet installed, offices moved, or an entire cubicle area refigured we are here to help.

Outside Plant

Connecting the structured wiring system to two or more separate buildings on a site is considered outside plant. This is a requirement for many large scale facilities, such as hospitals, universities, research centers and industrial plants. Outside plant wiring systems can support a wide variety of communication services. These include telephone and data transfer, live video, security, building automation control systems and any other low voltage circuitry.

Data

Linxus is certified with multiple copper and cable manufacturers, including the newest Category 6A. This means that you can rest easy with established warranties that will last a lifetime. We provide you with test results of each and every cable at the completion of each job, guaranteeing our work.

Fiber Optic

Our project managers help determine where and when fiber optics is necessary for your job. In instances where our clients need further distances covered, with large amounts of information, as well as something with less maintenance, this may be the best fit. To take it a step further, we can help design and deliver GPON (Gigabit Passive Optical Network) or a nearly all fiber infrastructure, for your commercial campus to leverage extraordinary bandwidth, quality of service, and future proof capabilities.

Audio Visual

Whether you need wiring to conference rooms or flat screens purchased and installed, we can help. Linxus has technicians on staff that specialize in the Audio Visual field so you know you are getting the best quality installations and advice on product.

Closet Remediation

When your data and telecom closets get out of control and it takes more time to find a cable than it does to fix the problem, it may be time for some organization. Your time is better spent troubleshooting then organizing. We are available after hours so as not to disrupt daily activity and can straighten out your cable rack so you can solve IT issues quickly and efficiently.

Sound Masking

Sound masking is used anywhere speech privacy or speech confidentiality is desired or required and in any workspace to reduce distractions and improve productivity. The most typical installations are open office plans, private offices, and public spaces.
Sound Masking is the addition of a familiar sounding, air conditioning-like background sound to an environment. Masking covers up or "masks" human speech and helps mitigate the distraction of other sounds. Our systems include both music and paging options, a great benefit, when needed.

Nurse Call

We better connect patients, caregivers, beds and IT systems, turning real-time data into informed action at the point of care. The end result: improved caregiver responsiveness and an environment more conducive to improving patient outcomes.

Low Voltage Lighting

An innovative approach to LED lighting that combines power, control and communications technologies over a single low-voltage wire or category cable. These systems can save commercial buildings 75% of the energy consumed by intelligently optimizing where and how much power is needed for various applications such as lighting, heating, air flow, and window shading.

Distributed Antennae System (DAS)

DAS helps expands cellular coverage in facilities that have quite a bit of wireless devices in use, such as a hospital or sports facilities, by distributing and boosting RF signals via small antennas placed throughout a location. Linxus both designs and deploys DAS, working hand-in-hand with carriers and taking away all the project management headaches.

Design Services

Design work by Linxus RCDDs can include, integration and installation of pathways, spaces, fiber and copper-base distribution systems and infrastructure that supports the transportation of information between computers, phones, access points and other information gathering devices. While it's best to be brought in at the initial planning stage to minimize changes, the RCDDs can help with project management throughout the process as well as authorize reliability at completion.

Security

If your needs require monitoring or controlling traffic in specific areas within your space with access controls and/or Closed Circuit Television (CCTV), which is also known as video surveillance, we can help you establish and implement a plan. Whether it be one or 1,000 doors and rooms our options are scalable.

Wireless Access Points

The process for wireless access points usually include a wireless survey, followed by purchasing the APs and then installation. We can help you at any point in the process, be it just a portion or from start to finish. Your needs determine our involvement.

Partnerships

In an effort to help our clients' efficiency Linxus has established relationships with businesses that correlate with our industry. Most often we get requests for help with Carrier Management services, Phone Systems, Wireless Access Points, and IT Consulting. We are happy to refer these screened partners or project manage your involvement. You determine the capacity.